Home | Cottage in Mousehole | One Bedroom Self Catering Holiday Accommodation in Cornwall
Abbey Place Net Loft is a lovely Mousehole cottage with a fishing and artistic background. The property is located just metres from the harbour in the heart of the village making it the perfect place to enjoy your Mousehole holiday. The property is a self catering one bedroom holiday apartment that sleeps 2-4 people (double bed plus sofa bed). It forms part of a much larger building that like many cottages in Mousehole has a fishing background.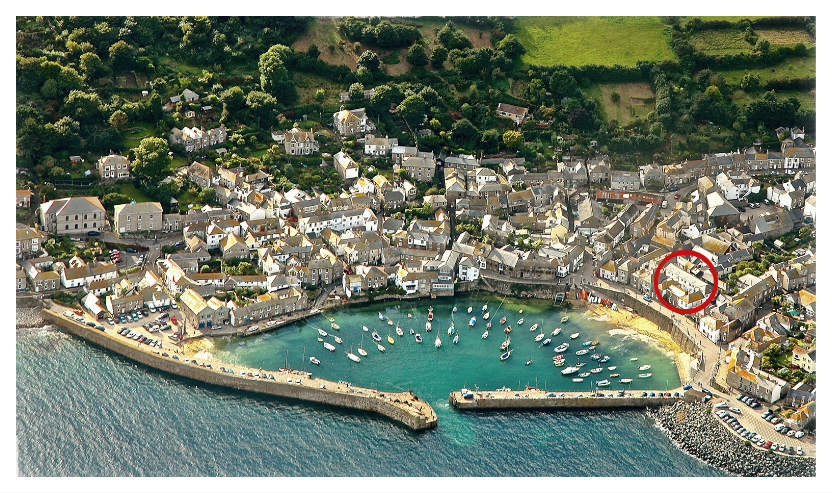 Abbey Place Net Loft circled in red
The building's original purpose was for fishermen in the 1800s to hang and mend their nets. The building was later converted into artists' studios that were popular with scholars of the nearby Newlyn School of painting. The building was converted into its current form as a Mousehole holiday cottage in the 1990s and is perfect holiday accommodation whether you are planning to stay for just a few days, or a little longer.


Mousehole is conveniently positioned to explore the Penwith peninsula. The nearby village of Lamorna makes for a pleasant walk along the south west coastal path. Alternatively you can venture a little further in land and explore the patchwork fields and footpaths the cover this ancient Celtic landscape. Lands End, St Ives, Penzance and St Michaels Mount are all only a short drive away and make for great day trips.

There are a number of restaurants in Mousehole that offer fantastic local produce and are open all year round. Enjoy peaceful and relaxing strolls around the village as you discover the numerous cafes and coffee shops that fill the streets.


Stop in for a pint at the Ship Inn village pub and chat to the locals or sit in the garden of the Old Coastguard Hotel and enjoy a drinik as you gaze at fishing boats on the horizon...

If you are staying in this Mousehole cottage over the Christmas period you will see the fabulous Mousehole Christmas lights that are put on with donations collected throughout the year.

We hope to have you stay in our Mousehole holiday cottage soon.