Location | Cottage in Mousehole | One Bedroom Self Catering Holiday Accommodation in Cornwall
Abbey Place Net Loft is located in the picturesque fishing village of Mousehole which is about 3 miles from Penzance. The poet Dylan Thomas described Mousehole as the loveliest village in England, although many Cornishman would dispute that this part of the world can be described as England! With old world charm, its streets are filled with many art galleries, small shops, and restaurants.
The sheltered harbour contains a small beach suitable for families.
.
Parking
Like most properties in the centre of Mousehole, Abbey Place Net Loft does not have any parking of its own. There are however three car parks in Mousehole, one either side of the harbour and another next to the Old Coastguard Hotel as you approach the village from Newlyn. The two by the harbour cost £3 each time per day.

There is space near the entrance to Abbey Place by the village shop to pull up briefly for loading and unloading purposes.
History
Mousehole was destroyed in the 1595 raid on Mount's Bay by Spaniard Carlos de Amésquita, the only surviving building being the 'Keigwin Arms', a local pub. Outside the Keigwin Arms (now a private residence) is a plaque with the wording "Squire Jenkyn Keigwin was killed here 23rd July 1595 defending this house against the Spaniards".
Mousehole from the air
Map of West Cornwall with Mousehole circled.
Dolly Pentreath, who is often accorded the status of last native speaker of the Cornish language, is often listed as coming from Mousehole. There is in fact a small memorial to her in Mousehole itself, although a larger one exists in the nearby parish of Paul, which is historically the mother church and mother community of Mousehole.
St Clement's Isle, can be seen from the harbour which is a small group of rocks that legend says was once home to an ancient hermit.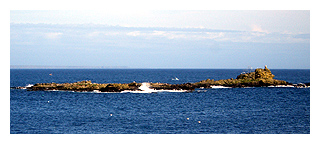 St Clement's Isle
Mousehole Events
Mousehole hosts a vibrant variety of festivals and community activities. It is known for the Mousehole Christmas lights, created each year to raise money for charity. Since 1981, every December 19th the lights have been turned off in memory of the victims of the Penlee lifeboat tragedy in which all 8 crew members were lost off Lamorna trying to rescue the crew of the Union Star.
Tom Bawcock's Eve is a unique celebration held on December 23rd each year to celebrate the ending of a famine in the 16th century by local resident Tom Bawcock. This festival is the inspiration behind the book The Mousehole Cat by Antonia Barber and the associated television productions. This festival is also the origin of 'Star Gazey Pie', a mixed fish, egg and potato pie with fish heads protruding through the pastry. Mousehole also holds a small maritime festival every two years called 'Sea, Salt and Sail'.